About Us
Lloyd Walters


1938

Lloyd Walters


1966

Mark Walters
2005
Hey this is Mark and I'm so happy you're here! Being a 3rd generation real estate investor, please allow me to give you a little background on myself and the type of family influences I grew up with…
My Grandfather, Lloyd Walters, invested in his first "fixer-upper" property back in 1937 during the Great Depression in San Jose, California. Since that time, my family has always been passionate about real estate.
My father, Lloyd Walters, was written up in a national publication in 1985 for some revolutionary marketing ideas he shared dealing with discounted mortgages.
The demand was so great to learn more of our techniques that we wrote the first book in the country on marketing for discounted mortgages titled, "How To Find All The Discounted Mortgages You Could Ever Hope To Buy".
After that books' release we were inundated with people asking what else we were doing. We then wrote another real estate investing book, which had people requesting more ideas and the big snow ball has never stopped rolling.
By the age of 25, I had my own real estate brokerage. After a few years, and being more interested in the investor side of the business, I closed up shop and have not been an active broker since.
After the savings and loan crisis of the late 1980's and early 1990's, in 1992 we packed up all our California belongings – moved to Arizona and began buying properties with the intention of riding the market up.
Guess what? The old crystal ball must have been working because over the following years Phoenix became one of the top real estate investing areas in the country.
I still enjoy investing – and sharing investing ideas with good people like yourself here.
Would you please do me a favor and share some of the good ideas you find here with others so together we can help make a positive impact on several lives…thank you!
Remember, whatever you're trying to accomplish, I know YOU can do it!
Mark~
On a personal note, just like you, I like having a lot of fun and good times!
Some of my passions are sports, animals, music, Hollywood entertainment, and movies.

As for sports… 
Football, baseball, hockey, basketball…I love it all.
Here's a photo at an Arizona Cardinals football practice
with their President, Michael Bidwill. His family also
owns the team and he couldn't have been nicer.
Being a lifelong hockey fan, this moment was
a thrill to be able to hug the Stanley Cup…
So was getting to have lunch with Wayne Gretzky
at his table during a charity event. He was very
nice and it was great being able to talk to him
about what the old Edmonton Oilers practices
were like.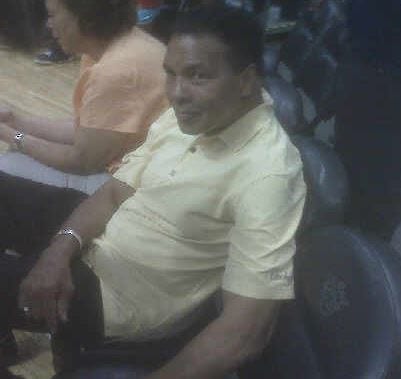 Muhammad Ali used to live in the Phoenix
area and it wasn't uncommon to see him at
sporting events in the audience.
I was at 2 such games where I was thrilled to
hear he was in attendance – and be able to
spot him.
On one of those occasions he wasn't sitting too
far away and he was in an area that anyone could
walk by. I couldn't resist taking this quick photo and
was so happy when he offered his charming expression
as I did. So grateful and happy to be able to share this
with you here.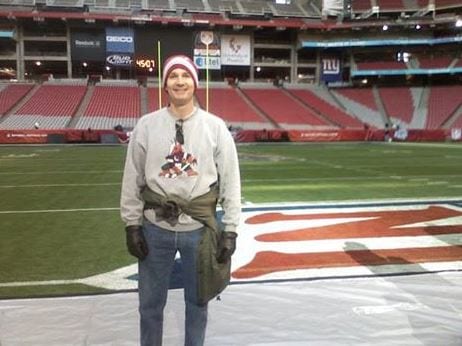 On the field at the Super Bowl in Glendale, AZ
before the game some years back getting ready to
help put Tom Petty's stage together for his halftime
performance.
With NHRA Nitro Funny Car Driver, Courtney Force.
She's always friendly…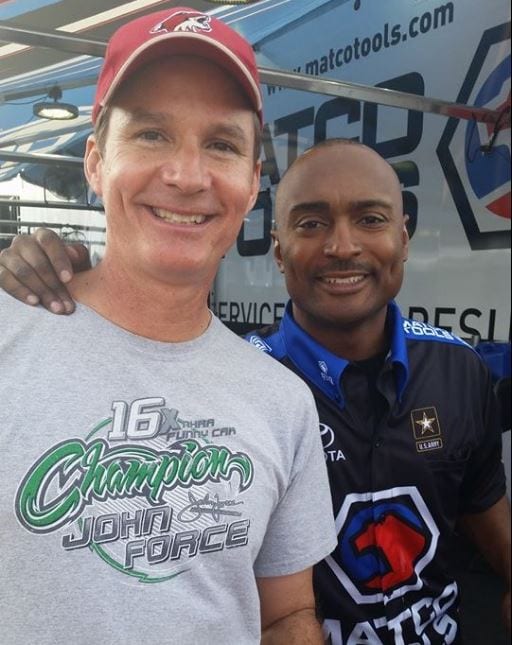 My wife and I love NHRA drag racing. There's nothing like
having your chest vibrate as the cars go by at over 300 MPH.
One of our favorite drivers is Antron Brown here and he couldn't
have been nicer. If you want to see some exciting cars in action,
definitely make it to an NHRA event. Now if I can just get my
Vespa to run on Nitro 🙂
As for animals…
I volunteer at a privately owned zoo where I help take care of many of the
larger animals – all kinds of up close and personal experiences with giraffes,
camels, tapirs, kangaroos, and so many more – including my favorite…the rhinos.
These photos are of wild animals – not pets – we must always respect
their instincts and appreciate what wonderful creatures they are.
Every once in a while celebrity friends stop by the
zoo like this day with Jack Hanna. Jack and his wife
are very friendly and nice…just like they are on their
TV show. Plus they're big-time animal lovers which I like!
As for music…
When I was a teenager back in the 1980's –  I used to be the lead singer of rock bands. We played the clubs in the San Francisco bay area. So many good times! I had the good fortune to sing background vocals on a couple of albums by the band Testament…
"Practice What You Preach"…
…and "Souls Of Black"…
For the record, they really didn't need me because their vocals
already sounded GREAT – but I'm friends with the singer and he
graciously invited me to do it and I'll always be thankful for his
generosity. (THANK YOU CHUCK! I'll forever be grateful.)

As for Hollywood entertainment, and movies…
Ever since I was young – growing up in California to today – my family
has always enjoyed going to live tapings of TV shows and taking tours
of the many movie studios in the Los Angeles area. While taking a tour
of the Disney Studios one time, we got to go inside of Walt Disney's office
which was a thrill because they have it set up just how he left it before
he passed away.
Here we are in Hollywood at age 17 right after graduating
high school. Check out that moustache and Member's Only jacket!
How did I get so lucky to experience this photo-op with a
19 year-young, very available and attractive Heather Locklear?
This was before she was with Scott Baio, Tommy Lee and Richie Sambora.
My wife and I enjoy being extras in movies and TV shows. Here are some
of the cool ones we were lucky enough to be extras in…
After spending 2 days on the set with Sylvester Stallone
in his Rocky boxing trunks, I said to my wife who's a
big fan of his, "I'm sorry you have to go home with me" 🙂
During filming of Jason Bourne, my wife got
to talk with Matt who seemed like a great guy.
He flashed her his movie-star smile. Afterwards
she again had to go home with me…poor gal!
We were recently extras in a movie with Johnny Depp
and Forest Whitaker that will soon be released called,
"Labyrinth". A few weeks before we did this we'd seen
Johnny play in his band with Alice Cooper and Joe Perry
called, "The Hollywood Vampires". I told Johnny this and
he lit-up as we talked about it. After my wife talked to him
and he flashed her HIS smile, she again found herself
leaving with just me…man that's gotta be tough!
Okay, that's it for now – I'll share more fun times
with you here as they come…
Mark~