Posted by Mark Walters in Featured, Marketing
Looking for more bargain real estate deals? One way to find them is by knowing how to find motivated home sellers. If knowing one way is good, here are 85 ways to find motivated home sellers…
I had a feeling my new 85 ways to find motivated home sellers training was going to solve a problem that many investors are currently experiecing but I had no idea it was going to be THIS popular!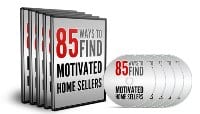 If you're even half interested in finding more bargain houses check out everything you're getting today for just $39…
– 5 step by step how-to video & audio modules going into detail on
85 ways to find motivated home sellers – and the potential profits
they represent…
There's no fluff here as I dissect and explain all 85 strategies…
Module 1 (Strategy 1-15)
Module 2 (Strategy 16-31)
Module 3 (Strategy 32-48)
Module 4 (Strategy 49-72)
Module 5 (Strategy 73-85)
– 4 Pre-Written Letters and Postcards. I've customized these to help
YOU become the one that homeowners turn to when they need to
sell their house fast. You'll love the way these letters and postcards
are written to help establish you as the neighborhood go-to-person.
– *Free Report* To Offer Home Sellers To Help Win Them Over.
This report is called, "How To Sell Your House Fast" and it's designed to
attract motivated seller prospects. It's quite detailed and strategically
positioned to help show these home sellers why YOU are such a good
choice for them to work with. You can offer it for free on your website
in exchange for the home owner's contact information.
(The letters and postcards you're also getting in this training are
customized to drive people to your website to get this free report.)

Grab it all here right now while it's still just 39 bucks

– 4 Pre-Written Emails for Your Follow-Up Sequence.
The emails included in this training are customized to
follow up after your prospect has opted-in to receive
the free-report above. They'll help continue your message
going forward and remind the home owner that YOU are
their go-to-person to sell their house fast.
– Custom Written Incoming Phone Call Script.
Once your letters and postcards drive motivated home
sellers to your website to download your free-report on
how to sell their house fast – and the emails strategically
follow up with them – you'll be happy to have this custom
written phone script so you know exactly how you may want
to respond to incoming phone calls. Simply follow along with
this phone script to break the ice and casually start finding
ways you can help these motivated home sellers.
Now you can see why this new 85 ways to find motivated home sellers
training is so popular :8)
If you're just looking for a small stream of incoming bargain
properties, choose a few of these strategies to start…
If you want to take your business to the next level…
Simply plug in more of these 85 ways to find motivated home sellers.
– Stop scratching your head wondering how you'll find a deal this
month (or this year). Simply choose a few of these strategies
to plug in and start tracking the incoming response.
– If you get too many deals coming in, simply reduce the amount
of strategies you're implementing until you can handle the volume.
– Monitor the strategies producing the deals with the most equity.
The more high-equity deals you put together, the more free-time
you can create to enjoy yourself.
– When the market changes and it always does, now you have
plenty of potential deal sources to tap into. When your competition
is left wondering what to do next, you'll be able to quickly adapt by
referring to these strategies and plug in the ones that work best for
the current market.
– The missing ingredient to successful real estate investing for
most people is being able to find deals to start with. Now you
have 85 potential ways to be finding deals that you can keep for
your own portfolio and long-term wealth, or to flip for cash now.
Good Idea – Start by finding "Your Top 10" favorite
ways to find motivated home sellers and then go from there…
I hope this helps!
Mark~
Take Advantage of Our Exclusive Trainings Below…
"Streamline U" Automated
3-Month Mentoring Program For Real Estate Investors

"85 Ways To Find
Bargain Houses"

Now you'll always have ways to find good deals to keep for yourself, or sell for a potential profit…
"Find Home Buyers
Quick Start"

How to find Home Buyers that are more than willing to pay you up to 5x MORE than what you might currently be profiting…

"HUD Home Secrets"

The Secret HUD Foreclosure
Low-Price Buying Formula…
"Foreclosure Wholesale System"

How To Wholesale Houses in
2 Simple to Follow Steps + The "Secret Formula" to help win over motivated home sellers BEFORE they ever meet you…

"Hidden Probate Profits"

Help THESE Probate Attorneys Unload Discounted Real Estate and Personal Property FAST…
"S2X – Buying Subject To, Using Leases and Options"

How To Buy Property with Little or
No Money Down…

"The Ultimate REO Lender List"

Tap Into THIS Small and Medium Sized Lender List ASAP to Pick Up the Properties They're Desperately Trying to Get Rid of TODAY…
"Bank REO Confidential"

REO Secrets Uncovered…

"Hard Money Secrets and Lender List"

These Lenders Have a Cash-Surplus ToLend To You For Deals…
"The Godfather's Guide
To Landlording"

How To Benefit from The "Perfect Rental Storm"
Happening All Around Us Right Now…

"Wrap Around Mortgage Method"

How To Invest In High Equity
Properties with Little Money…
 "The Big Collection of Real Estate Forms"

Over 90 of The Most Essential Forms
and Contracts…

"Perfect Price Formula"

How To Potentially Save a MINIMUM of $500
on EACH Property You Buy…
 "The Complete Guide To
Judgment Investing"

Advanced Tips & Methods To
Uncover Judgment Cash…

"Cash Flow Controller"

Tap Into Monthly Payment Streams So
YOU Get Paid…
"How To Find All The Discounted Mortgages You Could Ever Hope
To Buy"

Advanced Marketing Strategies For
Note Buyers…

"Bad Notes Into Profits"

Become The Go-To Person People
Bring The Deals To…
"HUD Home Secrets"

The Secret HUD Foreclosure
Low-Price Buying Formula…

"Video Marketing Quick Start

"

If you're looking for more leads, more customers, more sales, more referrals, and more repeat business in ANY NICHE – COPY what I'm doing in this video…